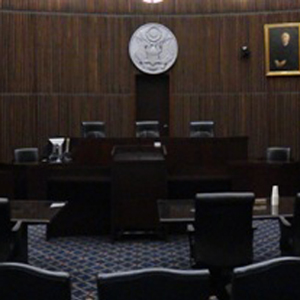 Today, the United States Court of Appeals for the Third Circuit announced that the $76 million case filed against the City of Englewood, et al, will be submitted, on the briefs, on Tuesday, May 2, 2017. Marc Stephens, who is representing himself, is asking the Appellate Court to reverse the decision of District Court Judge William J. Martini who dismissed the civil complaint stating that the Englewood Police Department had probable cause to arrest his brother Tyrone Stephens.
Marc Stephens, and his brother Tyrone Stephens, filed a federal civil rights lawsuit against the City of Englewood, Englewood Police Department, Det. Marc McDonald, Det. Desmond Singh, Det. Claudia Cubillos, Det. Santiago Incle Jr., Det. Nathaniel Kinlaw, Nina C. Remson Attorney At Law, LLC, and Comet Law Offices, LLC.

The complaint alleges False Arrest, Conspiracy, falsifying evidence, False imprisonment, intentional infliction of emotional distress, defamation, legal malpractice, and several other cause of actions.

On October 31, 2012, three victims were brutally beaten inside the parking lot of a 7-eleven convenient store in Englewood, New Jersey by a suspect wearing a ski-mask, black jacket, and riding a bike. The attack was witnessed by Natalia Cortes of Englewood.

In criminal court, Marc Stephens obtained the evidence, fired all lawyers, and submitted all documents to Judge Conte of the Superior Court in Hackensack, NJ. The case was dismissed with prejudice within two weeks. Tyrone Stephens, who was a minor tried as an adult, spent 1 year and 35 days in Bergen County Jail for a crime he did not commit.

The evidence submitted by Marc revealed the incident took place in the parking lot of '7-Eleven at 10pm', and that all Englewood Investigating officers knew that Tyrone was spotted, almost a mile away, by Detective Kinlaw at 'McDonald's at 10pm'.

"Kinlaw said that he saw you…that was at 10 O'clock", states Detective Marc McDonald during Tyrone Stephens' sworn statement at the Englewood Police Department on November 8, 2012.

Marc Stephens subpoenaed for all 911 calls during the incident. The 911 dispatch reveals that Detective Kinlaw was in front of McDonald's restaurant "at 10pm", confirming both Tyrone's and Marc McDonald's statements.

Court testimony also reveals that 'none' of the three victims, or the witnesses, identified the suspect as Tyrone Stephens. In fact, Detective Marc McDonald 'testified' in court that the Englewood Investigators had "no leads" of the suspects after speaking with the victims and witnesses on November 2, 2012.

The officers clearly submitted fabricated police reports, sworn statements, and complaints to the Bergen County prosecutor's office. Detective Marc McDonald of the Englewood Police Department 'lied under oath' when he testified in a grand jury hearing that Natalia Cortes identified Tyrone Stephens from a photo array by turning the page and saying "this one", and that Natalia stated Tyrone Stephens 'participated in the attack'.

Marc Stephens submitted evidence showing that Detective Cubillos and McDonald's Photo array eyewitness identification worksheet for Natalia states the following: "Did the witness identify any photo as depicting the perpetrator?" The answer checked is "No", see defendants, SA186, ECF Doc. 42, pg 9.

Natalia Cortes 'testified' in court that she "did not" identify Tyrone Stephens "at any time" during the police investigation conducted by the Englewood Police Department.

To make matters worse for the City of Englewood, the victims and Natalia's sworn statements are 'recorded on audio'. You clearly hear the victims and Natalia say they 'could not identify anyone'.

Circuit Judges Luis Felipe Restrepo, Anthony Joseph Scirica, and Dennis Michael Fisher of the United States Court of Appeals for the Third Circuit will be ruling on the case.

It is impossible to lose this case due to the testimony and '10pm timeline'. Only corruption beats this case, which Marc Stephens is fully aware of.

"The only way for the appellate court to sabotage this case is if they rule I didn't file my appeal on time, or just completely ignore the evidence like the District Court did. Corruption is a part of life. You either fight, or lay down. I will always choose to fight. In order to fight in court as pro se, you must have all legal arguments and documents ready to go. I had my legal arguments and appeal documents ready before I filed the case. If you check the record, you will notice I filed the appeal the same day the District Court ruled against us", says Marc Stephens.

Marc Stephens, who is not a lawyer, is extremely knowledgeable about law, and is no stranger to the courts. Marc recently won cases proven Citizens do not have to obtain vehicle insurance, do not have to pay income taxes, do not have to pay tolls, and submitted a petition for writ of certiorari to the Supreme Court of the United States which convinced Governor Christie to revise New Jersey's firearm laws.

Marc is definitely preparing to fight because he forwarded a copy of the evidence, and his briefs, to all media outlets, New Jersey Senators and Representatives, Governor Christie, New Jersey Attorney General, New Jersey Legislators, and all U. S. Congressmen.

Marc and Tyrone Stephens are seeking over $76 million in damages.

Copy of the Third Circuit Notice

Copy of Marc Stephens Reply Brief - A Must Read!

Below is video evidence EXPOSING the Judge and Detectives - Watch it Now!