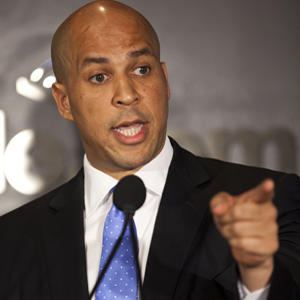 NEWARK, NJ – This week, U.S. Senator Cory Booker was joined by U.S. Reps. Bill Pascrell, Jr. (NJ-09) and Josh Gottheimer (NJ-05) in hosting a workshop for municipal officials to help strengthen opportunities for New Jersey communities in receiving federal funding through U.S. Economic Development Administration (EDA) grants, which assist in job creation and long-term economic growth.
New Jersey received less than 1% of the $250 million in economic development grants EDA awarded nationally in 2016, ranking among the lowest in the United States. The workshop, facilitated by EDA Northern New Jersey Representative Ed Hummel, was held at the Bergen County Building in Hackensack.

"EDA grants provide a critical source of capital that serves as a lifeline for many distressed communities and small businesses across New Jersey," said Sen. Booker, a member of the U.S. Senate Committee on Small Business and Entrepreneurship.

"Yet for every dollar paid in federal taxes, New Jeseyans receive just 68 cents in federal support, impacting our ability to remain economically competitive. Workshops like this help stem that tide and ensure New Jersey communities and small businesses receive the resources they need to create a sustainable economic development strategy, boost job growth and spur innovation."

Upon learning how woefully short New Jersey's federal funding for economic development fell, Sen. Booker met with Mr. Hummel in November to discuss ways to make New Jersey's EDA grant applications more competitive. On the heels of that meeting, Sen. Booker held his first EDA workshop in December for County officials in New Jersey, which reinforced the need for this week's event with Reps. Pascrell and Gottheimer providing additional support targeted toward municipalities.

"These grants offer huge return on investment for New Jersey taxpayers: every dollar the EDA invests leverages an average of $10 in additional investment. Those are resources communities like ours need to promote innovation and compete in the world marketplace. These competitive grants help with things like upgrading and maintaining infrastructure and long-term planning for our local economic development organizations—all while improving the paltry 33 cents on the dollar return on investment the Fifth Congressional District sees for its federal taxes. I thank the EDA and local leaders for participating in today's workshop and look forward to working with them to chase down every possible federal penny for our North Jersey communities," said Rep. Gottheimer.

"EDA is committed to providing our local economic development partners the resources they need to succeed, and workshops like this are a step in that direction," said EDA Northern New Jersey Representative Ed Hummel.

"I look forward to continue working with Sen. Booker, Rep. Pascrell, Rep. Gottheimer and community leaders to bring EDA's experience and funds to New Jersey's economically distressed communities to create well-paying jobs."

An agency within the U.S. Department of Commerce, EDA makes investments in economically distressed communities in order to create jobs for U.S. workers, promote American innovation, and accelerate long-term sustainable economic growth.

EDA offers a series of flexible grant programs designed to help rural and urban communities evolve through the economic development process and become robust regional engines for business creation and job growth.

In addition to construction and non-construction grants that can range from $2 million to $10 million per project, EDA also awards $70,000 to $300,000 to local governments and organizations to develop an economic plan. Attendees at this week's workshop included representatives from the Newark Community Economic Development Corporation, the Cites of Jersey City, Paterson, Hackensack, Elizabeth, East Orange and Orange and the Town of Newton.