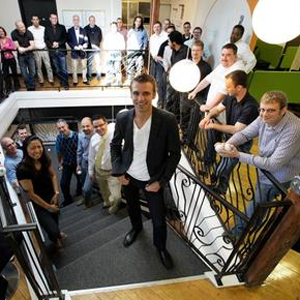 Dotloop, a leading platform for simplifying the real estate buying and selling process, today announced that more than $1 trillion in cumulative listings have been transacted through the platform since it launched in 2009. In the year since the company was acquired by Zillow Group, dotloop has added more than 1,000 new brokerage partners.

"We have experienced incredible growth," said Austin Allison, founder and general manager of dotloop.

"Crossing the trillion dollar mark is not only a huge accomplishment for dotloop as an organization, but speaks to where the future of the real estate transaction is headed. Dotloop is on the forefront of taking the real estate transaction out of the paper era, and into the digital one with a single end-to-end solution."

Dotloop is also celebrating the one-year anniversary of its acquisition by Zillow Group. With the resources of Zillow Group, dotloop has been able to significantly expand its presence in its Cincinnati headquarters, adding more than 50 "loopers" and more than 1,000 new business partners in the last year.

With the influx of new customers, more than 7 million documents are uploaded to dotloop every month.

"Being part of Zillow Group has really allowed us to scale our business," Allison continued.

"Our product has rapidly developed, we've launched new features like Easy Offer™, which streamlines the offer process, and enhanced our mobile experience, including launching a new app for Android™."

Dotloop has also significantly expanded its partnership with national franchisors, including RE/MAX, in the past year. Now, there are active dotloop users in 60 percent of RE/MAX brokerages throughout the country.

"When you're dealing with 500 agents, there's an extraordinary amount of paperwork," said Kathy Kuyoth, broker and owner of RE/MAX Preferred Associates in Toledo, Ohio.

"Having to search through all of that to make sure everyone is minding their P's and Q's is a full-time job in itself. Dotloop ensures precision and does it in a way that's seamless and simple."