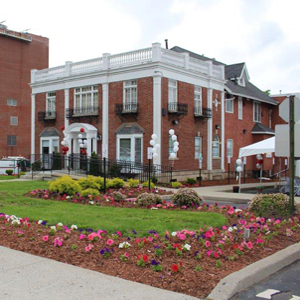 First Commerce Bank is a community-based, full-service commercial bank that emphasizes the banking needs of small to medium-sized businesses, professional entities, governmental agencies, and individuals. They opened in January 2006, offering a broad range of consumer and commercial banking services to its customers. Today, the bank serves Bergen, Ocean, Monmouth, and Mercer Counties with a total of eight branch locations. The local Englewood office opened in April of 2014 at 44 Engle Street.
First Commerce Bank prides itself on being efficient, responsive, and relationship driven.

"We offer our customers a high-quality, superior banking experience by providing more direct, personal attention than what we believe is offered by competing financial institutions, most of which are branch offices of banks headquartered outside our primary trade area," says Angela Farina, EVP of Retail Banking at First Commerce.

Nancy Hong, AVP and Englewood's Community Banking Officer adds, "As a true community bank, we know the areas we serve all have unique needs, and it's important for us to take an individualized approach to our branches. All of our offices, including Englewood, play an integral role in the success of the bank, and we really owe that to how the communities have welcomed us and responded to our products and services."

That success is evident in looking at the bank's rapid growth, with assets increasing from $77.6 million at December 31, 2010 to $718.5 million at March 31, 2016. At the same time, their earnings have turned around from a loss of $1.4 million from year ended December 31, 2010 to total net income of $7.6 million for last year, and net income of $3.1 million for the first quarter of 2016.

Quick loan decisions, personal service, and their relationship banking philosophy helps First Commerce Bank's clients grow and prosper in today's competitive market.

Among the services they provide are Free Personal and Business Checking, premium Money Market Accounts and Certificates of Deposit, Online Banking, Remote Deposit Capture, ACH, as well as a variety of personal, business, and commercial lending products, all backed by experienced professionals.

For more information about First Commerce Bank, please visit their website at www.firstcommercebk.com.