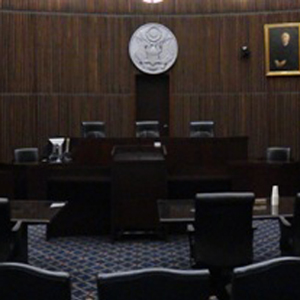 In the case titled, Marc Stephens, et al v. City of Englewood, et al, plaintiff Marc Stephens submitted his Reply briefs to the United States Court of Appeals for the Third Circuit. Marc Stephens is asking the Appellate Court to reverse the decision of District Court Judge William J. Martini who dismissed the civil complaint stating that the Englewood Police Department had probable cause to arrest Tyrone Stephens.
In August 2014, Marc Stephens, and his brother Tyrone Stephens, filed a federal civil rights complaint against the City of Englewood, Englewood Police Department, Det. Marc McDonald, Det. Desmond Singh, Det. Claudia Cubillos, Det. Santiago Incle Jr., Det. Nathaniel Kinlaw, Nina C. Remson Attorney At Law, LLC, and Comet Law Offices, LLC.

The complaint alleges False Arrest, Conspiracy, falsifying evidence, False imprisonment, intentional infliction of emotional distress, defamation, legal malpractice, and several other cause of actions.

District Court Judge William J. Martini dismissed the civil complaint for the following 4 reasons: "The record shows that Englewood police officers had probable cause to arrest Tyrone. Specifically, the officers had four main pieces of evidence implicating Tyrone in the October 31 Incident: (1) the alleged photo identification by Natalia Cortes; (2) the statements made by Justin Evans; (3) inconsistencies in testimony regarding Tyrone's alibi; and (4) the statement Tyrone allegedly made to Jaquan Graham while in a holding cell".

Marc Stephens reply brief proves, without a doubt, that the incident took place on October 31, 2012 in the parking lot of 7-eleven at 10pm in Englewood, NJ. Stephens' brief points out that all Englewood detectives knew before their investigation started, that Tyrone Stephens was located at McDonalds at 10pm.

"Kinlaw said he seen you and others…that was at 10 o'clock", says Detective Marc McDonald on record during Tyrone Stephens interrogation on November 8, 2012.

Detective Marc McDonald testified that "the victims stated" they were attacked on October 31, 2012 in the parking lot of 7 eleven at 10pm, and that Tyrone was located at McDonalds.

Any reasonable factfinder would immediately realize that based on the timeline of the event the case against Tyrone should have been over before it started.

In fact, during the criminal proceedings, Judge Gary Wilcox ruled that the defense witness testimony was credible, and Tyrone Stephens would have been at 'McDonalds' or 'home' during the incident, but Tyrone was still jailed for 1 year and 35 days.

The reason why the court found probable cause against Tyrone is because the Englewood Detectives fabricated the police reports, witness and victims statements, and court testimony stating that Tyrone was identified by the victims and witnesses on November 2, 2012.

It is settled law that officers who conceal and misrepresent material facts to the district attorney are not insulated from a § 1983 claim for malicious prosecution simply because the prosecutor, grand jury, trial court, and appellate court all act independently to facilitate erroneous convictions.

According to the 3rd Circuit, "A police officer who fabricates evidence against a criminal defendant to obtain his conviction violates the defendant's constitutional right to due process of law". Halsey v. Pfeiffer, 750 F. 3d 273 - Court of Appeals, 3rd Circuit 2014 at 279.

Marc Stephens put forth irrefutable evidence that the Englewood Detectives stated in their police reports, and detective Marc McDonald 'testified' that on November 2, 2012, the Englewood Detective did not have any leads on the suspects who attacked the victims on October 31, 2012 in the parking lot of 7-eleven at 10pm.

In addition, Marc Stephens put forth evidence that detective Marc McDonald 'testified' that witness Natalia Cortes 'did not' identify anyone on November 2, 2012 and during a second interview conducted on November 13, 2012.

The Photo array eyewitness identification worksheet for Natalia, signed by defendant Cubillos, states the following, "Did the witness identify any photo as depicting the perpetrator?" The answer checked is "No".

The most damaging evidence put forth by Marc Stephens is that the Englewood Detectives coerced co-defendant Justin Evans to implicate Tyrone Stephens as the suspect who attacked the victims. In fact, detective Marc McDonald 'testified' that he coerced Justin Evans to implicate himself and Tyrone.

Justin Evans 'testified' that he only implicated Tyrone because officers McDonald and Singh stated Tyrone snitched on him, and he did it out of revenge and dislike of Tyrone, whom he called his "enemy".

All evidence submitted by Marc Stephens is captured on audio. "The time of the incident was 10pm and it was impossible for Tyrone to be located both at 7 eleven and McDonalds, which proves all defendants reports and testimony are fabricated", states Marc.

The United States Court of Appeals for the Third Circuit is currently reviewing all evidence. There is no telling when the panel of Judges will make a decision.

Marc Stephens submitted a motion to expedite the Panel's decision, which will actually be reviewed by Maryanne Trump Barry, who is a senior judge of the United States Court of Appeals for the Third Circuit nominated by President Bill Clinton, and the older sister of President-elect of the United States, Donald Trump.

Marc and Tyrone Stephens are seeking over $76 million in damages.

Copy of Marc Stephens Reply Brief – A Must Read!