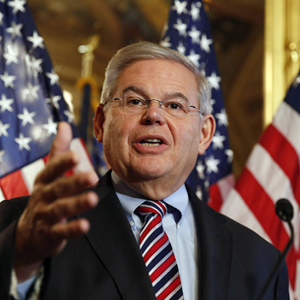 NEWARK, N.J. – U.S. Senator Bob Menendez received the 2016 Legislative Leadership Award from the New Jersey Association of Community Providers (NJACP) in recognition of his ongoing leadership, passion and commitment to ensuring people with intellectual and developmental disabilities are afforded every opportunity and choice to live as independently as possible.
"Throughout my career, I have worked to ensure access to health care for all, but especially for our most vulnerable populations," said Sen. Menendez.

"I have worked especially hard to ensure that those with intellectual and developmental disabilities have access to the full range of supports and services they need. Thank you very much for this honor, and I look forward to continuing to work together to advance care for those with intellectual and developmental disabilities."

Sen. Menendez authored the Autism CARES Act, which sets forth policies that integrate, coordinate and advance services and supports for those with autism and other developmental disabilities, including providing a path forward for adolescents and adults who have aged-out of traditional autism services.

New Jersey has the highest autism rate in the nation with one in 41 children diagnosed with spectrum disorders, up 12 percent since 2014.

"Not only are you a leader in the U.S. Senate, but as important, you are a lead advocate and champion for people with intellectual and developmental disabilities. NJACP and the membership are truly grateful for your ongoing leadership and support of our community," said NJACP CEO Valerie Sellers.

"We, and the people our members serve, are fortunate that you are a voice in the Senate for people with disabilities; with your sponsorship of numerous bills to serve, protect and improve people's lives. We recognize your leadership efforts with the support and introduction of measures providing affordable housing opportunities to people with disabilities, supports for people with autism and strengthening the Medicaid program."

NJACP honored Sen. Menendez during its 33rd annual conference Friday in Atlantic City. This year, the theme was "The Future is Here, There is No Turning Back."

NJACP member providers are dedicated to advancing sustainable community-based services and supports that enrich lives and build futures for people with intellectual, developmental and other disabilities across the state.

People with intellectual and developmental disabilities live with diagnosis that can limit cognitive functioning and adaptive behavior and are life-long. NJACP services range from residential homes and apartments to employment and vocational programs.