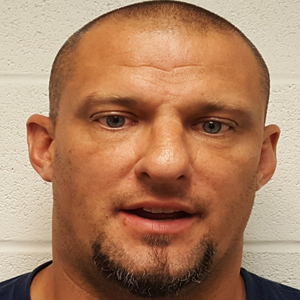 Acting Bergen County Prosecutor Gurbir S. GREWAL announced the arrest of ROBERT MEYERS of Saddle Brook, New Jersey (DOB: 12/05/1975) on charges of Sexual Assault and Terroristic Threats. The arrest came about as the result of a joint investigation conducted by members of the Bergen County Prosecutor's Office Special Victims Unit under the direction of Officer in Charge, Deputy Chief Robert ANZILOTTI and Saddle Brook Police Department under the direction of Chief Robert KUGLER.

On Saturday, August 13, 2016, a woman reported to the Hackensack University Medical Center that she was the victim of a sexual assault earlier in the day at a residence in Saddle Brook, New Jersey.

The Hackensack University Medical Center notified the Bergen County Prosecutor's Office Special Victims Unit, and a joint investigation ensued with the Saddle Brook Police Department.

As a result of the investigation, Robert MEYERS was arrested and charged with one (1) count of Sexual Assault, a second degree crime and one (1) count of Terroristic Threats, a third degree crime.

Bail on the criminal charges against Mr. MEYERS was set by the Honorable Steven SCHECHTER, J.S.C. of Bergen County at $25,000, no ten (10%) percent option.

As conditions of bail, Robert MEYERS is to have no contact with the victim, must surrender his passport and turn over any firearms.

Robert MEYERS posted bail and was released. He is scheduled to appear in Bergen County Central Judicial Processing Court for a first appearance on Friday, September 2, 2016 at 8:30 a.m.

Acting Bergen County Prosecutor GREWAL states that these charges are merely accusations and that the defendant is presumed innocent until and unless proven guilty beyond a reasonable doubt and would also like to thank the Saddle Brook Police Department for their assistance in this investigation.