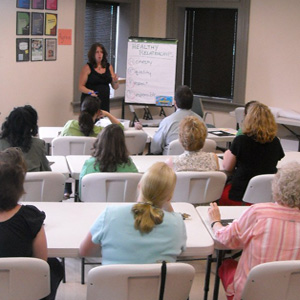 (Englewood, New Jersey; November 7, 2016) -- The Community Chest will present the workshop, Planned Giving, on National Philanthropy Day® (NPD) on Tuesday, November 15, 2016. The workshop will be held at The Donald A. Quarles School, located at 186 Davison Place in Englewood, New Jersey at 6:30 p.m. The workshop is free and open to the public. The Community Chest will join other communities worldwide in celebrating NPD.
In 1986, President Ronald Reagan first proclaimed NPD, an annual event to increase public interest and awareness about philanthropy, knowledge on giving, volunteering and engagement at the charitable level to assist the public with their own philanthropy.

The workshop, led by Jim Sonneborn and Lesley Draper, Wealth Advisors from Regent Atlantic LLC, will cover the integration of charitable giving with a donor's financial plan. The session will help donors understand their capacity to give, determine the best time to give, identify the most appropriate strategy for a donor, examine methods that could improve cash flow from investments, and look at the impact on estate planning. Five essential planned giving strategies will be presented covering existing or new life insurance policies, retirement plan beneficiary designations, charitable gift annuities, charitable lead trusts, and charitable remainder trusts. A Question and Answer session will follow the presentation.

Call Dr. Shelly Wimpfheimer, Executive Director of The Community Chest, to register at 201-568-7474.

About The Community Chest

For over 80 years, The Community Chest, a nonprofit, tax-exempt organization, has supported local not-for-profit agencies in the Englewood area. Each year, The Chest raises funds and allocates them to agencies that have demonstrated the capacity to provide services to local citizens. The Chest also provides other coordinating and planning services in the communities of Englewood, Englewood Cliffs and Tenafly, serving as a bridge between agencies and organizations and investing in the stability and quality of the service network.

For further information about The Chest, visit www.communitychestofenglewood.org or contact (201) 568-7474. Stay updated about the organization's activities on Facebook and Twitter.