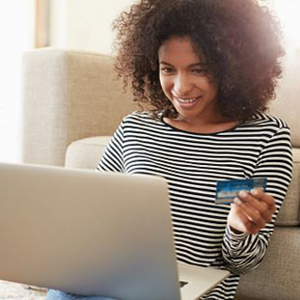 Wells Fargo & Company (NYSE:WFC) announced today that two million customers have already viewed their FICO® Score through its launch of the FICO® Score Open Access program for consumer credit card customers in March. Since then, the company broadened free access to FICO® Scores under this program to its 30 million eligible consumer credit customers with a Wells Fargo mortgage or home equity line of credit, credit card, private student loan, direct auto loan, or a personal line or loan. Customers can see their scores through Wells Fargo Mobile® banking.

"We want to support our customers' financial health and help them see their credit in a whole new way because it can impact everything from obtaining a loan to renting an apartment," said Shelley Freeman, head of Consumer Credit Solutions for Wells Fargo.

"That's why we integrated a customer's FICO® Score with their mobile banking experience so checking their credit health is as easy as checking their account balance."

What the FICO® Credit Score experience offers:

The FICO® Scores that customers see as part of this program are the ones Wells Fargo uses to manage consumers' credit accounts and are provided for educational purposes. Through the program, eligible customers receive:

♦ Free access to their FICO® Score and what impacts the number.

♦ Personalized Wells Fargo credit tips based on their score factors.

♦ An interactive graph of their recent FICO® Score history.

♦ Credit education, answers to frequently asked questions, and more.

A link to "View Your FICO® Credit Score" will automatically appear on a customer's account summary page when the service becomes available along with a reminder if they have a new score. Later this year, customers will be able to access their FICO® Score via desktop or laptop.

"Customers who have already opted in to view their scores are giving us positive feedback," Freeman added.

"Perhaps what's most satisfying is 45 percent say they've taken some action as a result of this new program. That tells us we're truly helping our customers understand and manage their credit and lay a path for a financial future that works for them."

Wells Fargo's history of supporting financial health

The FICO® Score experience is part of Wells Fargo's long history of providing customers with information, tools and resources to help them succeed financially. For example:

♦ In past promotional offers (such as Free Credit Score, which was held for the first time in 2012), the company provided free credit scores to more than a million customers and team members. The new FICO® Credit Score experience replaces the Free Credit Score promotion.

♦ The company launched Path to Good Credit in 2015. This series of interactive websites offers information about building and improving credit through quizzes, videos, tips and infographics.

♦ Also in 2015, the company enhanced the "Borrowing and Credit" section of wellsfargo.com. The redesign included a refresh of the Smarter Credit™ Center where consumers can find tips and guidance to help them establish, improve, or rebuild their credit and stay on track with debt.

For more information, visit www.wellsfargo.com/ficoscore. FICO is a registered trademark of Fair Isaac Corporation in the United States and other countries.