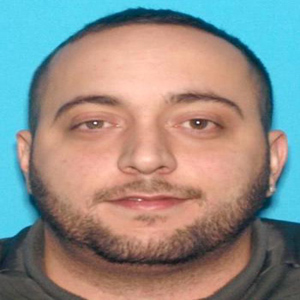 Acting Bergen County Prosecutor Gurbir S. GREWAL announced the arrest of VITTORIO "VICTOR" RIZZO (DOB:: 08/25/1979) of 270 Kamena Street, Apt. 2A, Fairview, New Jersey. RIZZO was arrested on narcotic related charges. This arrest is the result of an investigation conducted by members of the Bergen County Prosecutor's Office Narcotic Task Force under the direction of Officer in Charge, Deputy Chief Robert ANZILOTTI, the Fairview Police Department under the direction of Chief Martin KAHN, and the Cliffside Park Police Department under the direction of Chief Richard GAITO.

Pursuant to this investigation, it was determined that RIZZO was involved in the distribution of Controlled Dangerous Substances in Bergen County, New Jersey.

On Wednesday, August 3, 2016, a court-authorized search warrant was executed at RIZZO'S residence and revealed: approximately 100 grams of suspected Cocaine, approximately one pound of Marijuana, Marijuana oils, numerous Prescription Pills, Anabolic Steroids, Narcotic Paraphernalia, and $6,448.00 in U.S. currency.

RIZZO was charged by Criminal Warrant with one count of Possession with the Intent to Distribute a Controlled Dangerous Substance, namely Cocaine, in a Quantity Greater Than One-Half (1/2) Ounce, but Less Than Five Ounces, a Second Degree Crime; and one Count Of Possession With The Intent To Distribute A Controlled Dangerous Substance, Namely Marijuana In A Quantity Of One (1) Ounce Or More, but Less Than Five (5) Pounds, a Third Degree Crime.

The Honorable Frank Tortora, J.M.C. set bail for RIZZO at $10,000 with a 10% cash option, which he subsequently posted and was released.

Acting Prosecutor GREWAL states that these charges are merely an accusation and that the defendant is presumed innocent until and unless proven guilty beyond a reasonable doubt, and would also like to thank the Fairview Police Department and Cliffside Park Police Department for their assistance in this investigation.