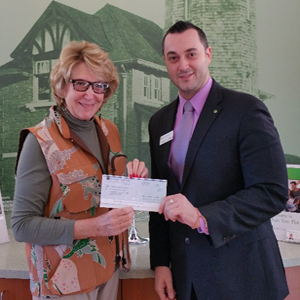 (Englewood, New Jersey; December 6, 2016) -- The Community Chest announces receipt of a $2,000 donation from Investors Bank, a first time contributor to the organization. The gift, designated for the annual Spirit of the Season Giving Program, will make the holidays a little brighter for people in need in the area.
"We are very grateful to Investors Bank for their generous contribution. The bank, a new member of the Englewood community, has a long tradition of supporting the neighborhoods where it is located. Their corporate philosophy includes working collaboratively with nonprofit organizations such as The Community Chest to ensure local citizens receive the support and help they need in difficult times," said Dr. Shelly Wimpfheimer, Executive Director, The Community Chest.

The Chest has a goal to raise $5,000 for the Spirit of the Season Giving Program that will be distributed to five nonprofit organizations providing services to individuals and families. The nonprofit organizations selected to receive $1,000 each to purchase gift cards that will be given to their most needy clients are: Bergen Family Center, Women's Rights Information Center, Southeast Senior Center for Independent Living, The Center for Food Action and The Office of Concern. Families will receive up to $100, with smaller amounts awarded to individuals. In 2015, 160 needy clients received gifts through this program.

"We are grateful to support The Community Chest's holiday project that helps brighten the lives of families in need during this season of giving. One of our Bank's key missions is forming partnerships with local nonprofit groups, and together we strive to make a significant difference in the many communities we serve across New Jersey," said MaryRose Genovese, Senior Vice President and Regional Manager, Investors Bank.

Contributions to the Spirit of the Season Giving Program are still being accepted and may be done by mailing a check to The Community Chest, located at 122 South Van Brunt Street in Englewood, New Jersey 07631. Make an online donation at the nonprofit organization's website, www.thecommunitychestofenglewood.org, and click the Donate button.

For further information about The Community Chest and the Spirit of the Season Giving Program, contact (201) 568-7474.

About The Community Chest

For over 80 years, The Community Chest, a nonprofit, tax-exempt organization, has supported local nonprofit organizations in the Englewood area. Each year, The Chest raises funds and allocates them to agencies that have demonstrated the capacity to provide services to local citizens. The Community Chest also provides other coordinating and planning services in our communities, serving as a bridge between agencies and organizations and investing in the stability and quality of our service network. For further information about The Chest, visit www.communitychestofenglewood.org or contact (201) 568-7474.