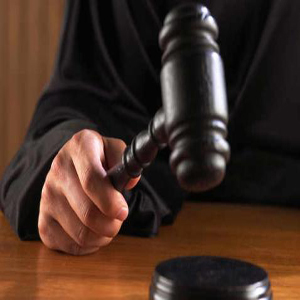 On June 9, 2016, Marc Stephens' motion for reconsideration was heard by honorable Judge John R Desheplo of Fort Lee Municipal Court. Marc Stephens argued that 'all citizens' have a constitutional right to travel throughout the United States without being forced to obtain a driver's license, vehicle registration and insurance, and that New Jersey's Title 39 Motor Vehicles and Traffic Regulation 'does not apply' to citizens who are not 'commercial drivers'.

Prior to the reconsideration hearing, on May 3, 2016, Municipal Judge Matthew Fierro denied Marc Stephens 'Motion to Dismiss for Lack of Standing' stating that according to Title 39:3-29 Marc is required to have a driver's license, registration, and insurance; and that title N.J.S.A. 39:3-1 is regarding "government fire trucks and ambulances". Marc raised an objection to Judge Fierro's opinion and filed a motion for reconsideration stating that Fierro was in clear error of fact and law.

Marc Stephens put up an excellent argument backed by the opinion of the United States Supreme Court.

"The right to travel is equivalent to the right to free speech", says Marc.

"There is 'common law speech' which the State cannot regulate, and then there is 'commercial speech' which the State can regulate by permits and licenses because it's a privilege. The same applies to the right to travel. There is 'common law travel' which is a fundamental right that the state cannot regulate, and there is 'commercial travel' which is classified as 'driving' and is subject to State regulations because it's a privilege" says Marc.

"Travel is common law, driving is commercial law" says Marc.

Judge Desheplo agreed with Marc's argument that traveling by auto vehicle is a 'fundamental right' secured under the 5th and 14th amendment of the United States Constitution. Once Desheplo agreed that citizens have a right to travel by automobile, Marc than proceeded to read the following United States Supreme Court opinions on record:

"Where rights secured by the Constitution are involved, there can be 'no rule making or legislation' which would abrogate them." Miranda v. Arizona, 384 US 436 - Supreme Court 1966 at 491. "The Constitution of the United States is the supreme law of the land, anything in the Constitution or statutes of the States to the contrary notwithstanding, a statute of a State, even when avowedly enacted in the exercise of its police powers, must yield to that law. No right granted or secured by the Constitution of the United States can be impaired or destroyed by a state enactment". Connolly v. Union Sewer Pipe Co., 184 US 540 - Supreme Court 1902 at 558.

"The right to travel interstate by auto vehicle upon the public highways may be a 'privilege or immunity' of citizens of the United States. Compare Crandall v. Nevada, 6 Wall. 35. A citizen may have, under the Fourteenth Amendment, the right to travel and transport his property upon them by auto vehicle. But he has no right to make the highways his place of business by using them as a common carrier for hire. Such use is a 'privilege' which may be granted or withheld by the State in its discretion, without violating either the due process clause or the equal protection clause". Packard v. Banton, 264 U.S. 140, 144], Buck v. Kuykendall, 267 US 307 - Supreme Court 1925 at 314. "The right to travel is an "unconditional personal right," a right whose exercise may not be conditioned". Shapiro v. Thompson, 394 U. S., at 643 (STEWART, J., concurring) (emphasis added); Oregon v. Mitchell, supra, at 292 (STEWART, J., concurring and dissenting, with whom BURGER, C. J., and BLACKMUN, J., joined). Dunn v. Blumstein, 405 US 330 - Supreme Court 1972 at 342.

Marc than submitted into evidence the two citations issued by Officer P. Kellet of the Fort Lee Police Department, who was not present, as proof that Kellet did not 'check off' that Marc Stephens was operating a commercial vehicle, or contained a commercial license.

"So he knew that I was not driving a commercial vehicle", say Marc.

Judge Desheplo confirmed with Marc that if he granted the motion, it was understood that it would only apply in the Borough of Fort Lee.

"Yes, I understand", Marc said.

Judge Desheplo wanted more time to review both the Motion to Dismiss for Lack of Standing, and the Motion for Reconsideration submitted by Marc.

It appears that Judge Desheplo is going to grant Marc's motion, but you never know with Judges. If the motion is denied, Marc Stephens stated he will immediately file a civil lawsuit in Federal Court.

"Judge Desheplo and I agree that Travel by auto is a fundamental right secured by the U.S. Constitution. The United States Supreme Court made it very clear in multiple cases that the state can not regulate constitutional rights", says Marc.

We are eagerly awaiting Judge Desheplo's decision. But, it has only been 10 days.