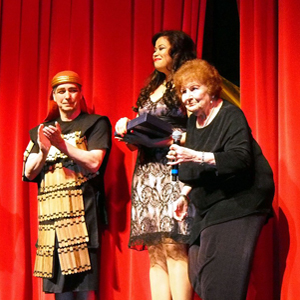 (Fort Lee, New Jersey) – Artistic Director Lucine Amara invites vocalists of all ages worldwide to apply now to the New Jersey Association of Verismo Opera's (Verismo Opera) 29th Annual International Vocal Competition. The early bird registration deadline is July 31, 2017. Verismo Opera is the house opera company of the Bergen Performing Arts Center (bergenPAC) in Englewood, New Jersey. The nonprofit opera company is recognized for providing opportunities for artists to learn and perform in a professional environment with a live orchestra.
Preliminary auditions will take place on November 1, 3, 6, and 8, 2017 from 6:00 p.m. to 10:00 p.m. Final auditions will be held on December 6, 2017 from 6:00 p.m. to 9:00 p.m. The preliminary and final auditions will be held at The Liederkranz Foundation, 6 East 87 Street in New York City in the United States of America. The application deadline is October 31, 2017.

At the preliminary auditions, a luminary panel of judges will officiate, including Metropolitan Opera legend Lucine Amara; Maestra Lucy Arner, Music Director/Principal Conductor, New Jersey Association of Verismo Opera; and Evelyn La Quaif, General Manager and Stage Director, New Jersey Association of Verismo Opera. Upon request, the judges' comments will be sent to all preliminary participants and finalists.

A professional accompanist will be provided to all vocalists participating in the preliminary and final auditions. A free master class will be offered to all applicants accepted to sing in the preliminary auditions, and finalists selected to perform in the vocal competition will be invited to attend three four-hour free master classes. During the master classes led by Amara and La Quaif, artists will learn deportment, language, style and presentation at auditions.

"Singers should do as many auditions as they can. It helps get rid of nerves, allows them to work through any difficulties, and most importantly, gives them much needed feedback. Our competition gives the artist all three and gives them the opportunity to participate in a free masterclass," said Amara, who performed for over 40 years at the Metropolitan Opera in 882 on stage performances in 56 roles.

Finalists will be given feedback; extensive free coaching on language, style and presentation; and the opportunity to perform in Verismo Opera's fully staged upcoming productions. Winners will receive cash awards totaling $3,500 ($2,000 first prize, $1,000 second prize and $500 third prize).

Vocal competition winners and finalists have performed in several of Verismo Opera's productions. The 26th Annual International Vocal Competition's first prize winner, tenor José Heredia, performed in Verismo Opera's productions of Rigoletto, Carmen and La Bohème. Baritone Youngjoo An, the 2013 Verismo Opera Vocal Competition's second prize winner, appeared in the company's productions of La Bohème and Lucia di Lammermoor. In 2016, An and Nathan Resika, a finalist in the 27th Annual International Vocal Competition, performed in the company's premiere of Amilcare Ponchielli's La Gioconda.

The early bird registration fee, $55, is in effect through July 31, 2017, changing to $75 on August 1, 2017. Payment may be made securely online at http://verismopera.org/donate-2/ located at the bottom of the page or by check made out and sent to Verismo Opera, P.O. Box 3024, Fort Lee, New Jersey 07024-9024.

All applicants are required to send a resume, bio, a MP3 file or a CD containing at least three arias, an 8 x 10 black and white photo, and the application fee. Applicants will be notified if they are accepted into the competition. An application may be downloaded at http://verismopera.org/causes/vocal-competition/. For further information or to schedule an audition appointment, contact This email address is being protected from spambots. You need JavaScript enabled to view it. or call (201) 886-0561.

Funding

The season is made possible, in part, with funds provided by the New Jersey Council on the Arts/Department of State, through grant funds administered by the Bergen County Department of Parks, Division of Cultural and Historic Affairs. Other supporters include Children's Aid Foundation, Robert J. Campbell, MD, Cesare L. Santeramo, KSJ, Mary Casella Briggs Memorial Fund, Paul Weiss Matching Fund, The Gerda Lissner Foundation, Inc., Vanguard Charitable Endowment Fund, and the Verismo Opera Board of Directors.

About New Jersey Association of Verismo Opera

For 28 years, the New Jersey Association of Verismo Opera has been an integral part of the region's classical music culture. Led by Metropolitan Opera luminary Lucine Amara, Verismo Opera delivers a rich, grand opera experience for performers and viewers.

As the Bergen Performing Arts Center's house opera company, Verismo Opera provides performing opportunities for young musicians and artists through its semi-annual productions at the theatre and concerts held in community settings. Community members are invited to get involved as supernumeraries and volunteers.

An annual international vocal competition is conducted in November with finals generally drawing artists throughout the United States, Canada, and Europe. Verismo Opera also organizes opera workshops, master classes and concerts and offers affordable, highly professional productions.

For more information, visit Verismo Opera's web site, www.verismopera.org; follow the company on Facebook, http://bit.ly/9JXTP8, or Twitter @NJVerismoOpera; or call (201) 886-0561.