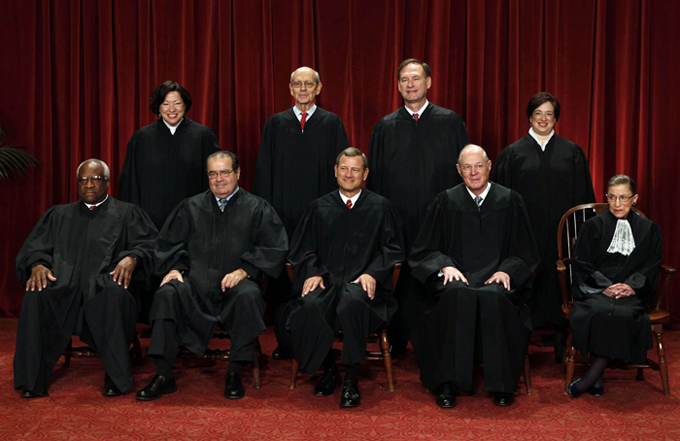 On January 10, 2017, in the case no. 16-7165 titled Stephens vs Jerejian, et al, the Attorney General of New Jersey, Adam Gibbons, filed a waiver stating that he will not file a response to Plaintiff Marc Stephens' Petition for Writ of Certiorari. Stephens is seeking to strike down New Jersey's Firearm law as facially unconstitutional, and in violation of the Second and Fourteenth Amendment of the United States Constitution.
On January 25, 2017, the clerk for the Supreme Court of the United States informed Stephens that the Justices are set to hold a closed conference regarding his petition.

The 8 current Supreme Court Justices includes, Ruth Bader Ginsburg, Elena Kagan, John Roberts, Sonia Sotomayor, Anthony Kennedy, Samuel Alito, Stephen Breyer, and Clarence Thomas.

President Donald Trump is also set to select a replacement for Justice Antonin Scalia who passed away on February 13, 2016. Scalia was 79 years old.

According to Trump, the decision is coming soon.

"I'll be making my decision this week, we'll be announcing next week," Trump said, after meeting Tuesday with Senate leaders from both parties to discuss the vacancy.

"We'll pick a truly great Supreme Court justice."

The list of possible candidates is now down to three names, all of them federal appeals court judges:

Judge William Pryor in Alabama,
Judge Neil Gorsuch in Colorado, and
Judge Thomas Hardiman in Pennsylvania.

Trump has met personally with all three, sources say.

Justice Roberts, Kennedy, Alito, and Thomas are all pro second amendment. Donald Trump is also a big advocate of protecting the right to keep and bear arms. So, Trump's pick will most likely be pro second amendment, securing the 5-4 majority.

Marc Stephens', who is representing himself, petition for writ of certiorari raises three compelling legal arguments regarding New Jersey's firearm permit and licensing laws, which Stephens claim are Facially Unconstitutional.

First, Stephens argues that New Jersey's Firearm Laws were created only for Slaves, and are in violation of the 2nd and 14th amendment of the U.S. Constitution.

Stephens points to several licensing laws enacted by the State of New Jersey which reads:

"In October 1694, "An Act concerning Slaves" was enacted in New Jersey; [§1] WHEREAS complaint is made by the inhabitants of this Province, that they are greatly injured by slaves having liberty to carry guns..." East New Jersey Laws, October 1694, ch.II, "An Act concerning Slaves, &c.," L&S 340-342. In New Jersey, "An Act to prevent...Carrying of Guns..by Persons not qualified was enacted," ["And be it further Enacted by the Authority aforesaid, That this Act nor any part thereof, shall be construed to extend to Negro, Indian or Mullato Slaves…, without Lisence from his Master…" In 1751, in New Jersey "An Act …to prevent Negroes and Molatto Slaves,…from meeting in large Companies,…and from hunting or carrying a Gun on the Lord's Day was enacted".

In the landmark case McDonald vs. City of Chicago, the Supreme Court clearly addressed this issues in their opinion, "States formally prohibited blacks from possessing firearms. Others enacted legislation prohibiting blacks from carrying firearms without a license, a restriction not imposed on whites", McDonald v. City of Chicago, Ill., 130 S. Ct. 3020 - Supreme Court 2010 at 3082.

The New Jersey firearm licensing statues, which are still being enforced today, are in clear violation of the 14th amendment.

Second, Stephens argues that the States can not enact gun control laws, and Third, cannot interfere with the right of the citizen to keep and bear arms.

Several Supreme Court Opinions supports Stephens' legal argument.

Marc states in his petition, "New Jersey admits that they are enacting gun control laws".

"Permits to carry handguns are the most closely regulated aspect of New Jersey's gun control laws". In re Preis, 118 N.J. 564, 573 A.2d 148, 150 (1990).

"Individuals who wish to carry a handgun in public for self-defense must first obtain a license". N.J.S.A. § 2C:39-5(b)", see Drake v. Filko, 724 F. 3d 426 - Court of Appeals, 3rd Circuit 2013 at 428-429.

The Supreme Court ruled, "The state cannot "enact any gun control law" that they deem to be reasonable. Time and again, however, those pleas failed. McDonald v. City of Chicago, Ill., 130 S. Ct. 3020 - Supreme Court 2010 at 3046. "The State cannot interfere with the right of the citizen to keep and bear arms. The right to keep and bear arms is included in the fourteenth amendment, under `privileges and immunities.'" McDonald v. City of Chicago, Ill., 130 S. Ct. 3020, at 3077-3083.

Despite the case seeming to be very straightforward, there is still a possibility that the court will not hear the case. Refusing to hear a case is not the same as issuing a decision, but it is a strong signal that the court believes that the legal issue in question is clear and does not require intervention.

If the court hears this case, it is almost certain that Marc Stephens' legal argument will result in the Supreme Court striking down firearm licensing laws in all 50 States.

The Supreme Court Justices will most likely make a decision on Friday, February 10, 2017, and issue the order on Monday, February 13, 2017.

Read Marc Stephens' Petition for Writ of Certiorari - A Must Read!

Like us on Facebook, Follow us on Twitter!