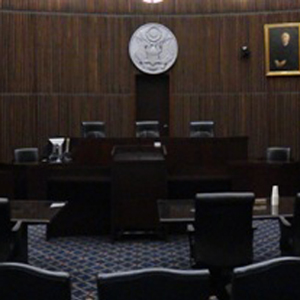 On July 28, 2016, the United States Court of Appeals for the 3rd Circuit issued an Order granting Jurisdiction in the $76 million deprivation of civil right case titled, Marc Stephens, et al v. City of Englewood, et al. Lawyers for the City of Englewood, Englewood Police Department, and Nina C. Remson Attorney at Law, tried to get the case dismissed, but the court reviewed Marc Stephens' compelling evidence, and decided to grant the case.

The court order reads, "Upon further review, it appears that it would not be appropriate to submit this appeal to a panel of the Court to consider whether the appeal should be dismissed for lack of appellate jurisdiction".

The lawyers for the defendants raised multiple arguments, which included that Marc Stephens is not a lawyer, that he has no claims against the City of Englewood, and that he can not represent Tyrone Stephens in court. All arguments failed.

Marc appears to be an expert on common law rights.

On August 2, 2016, the clerk issued the briefing and scheduling order, which Marc has until September 12, 2016, to submit his opening brief.

The lawsuit stems from an incident which occurred on October 31, 2012, in the parking lot of 7-eleven in Englewood, New Jersey, at 10:00pm, in which Tyrone Stephens, a juvenile at the time, was framed by several detectives at the Englewood Police Department.

The criminal case was dismissed with prejudice. Tyrone spent 1 year and 35 days in jail for a crime he did not commit. At the time of Tyrone's arrest, he was a straight A student.

In August 2014, Marc Stephens, and his brother Tyrone Stephens, filed a federal civil rights complaint against the City of Englewood, Englewood Police Department, Det. Marc McDonald, Det. Desmond Singh, Det. Claudia Cubillos, Det. Santiago Incle Jr., Det. Nathaniel Kinlaw, Nina C. Remson Attorney At Law, LLC, and Comet Law Offices, LLC.

The complaint alleges False Arrest, Conspiracy, falsifying evidence, False imprisonment, intentional infliction of emotional distress, defamation, legal malpractice, and several other cause of actions. Marc and Tyrone Stephens are seeking over $76 million in damages.

Marc Stephens filed a Motion to Recuse Federal Judge William J. Martini who dismissed the civil case in District Court stating that the Englewood Police Department had probable cause to arrest Tyrone.

A merits panel from the United States Court of Appeals for the 3rd circuit is currently reviewing the motion to remove Martini.

The evidence reveals, without a doubt, that Judge Martini sabotaged the case by intentionally overlooking the evidence.

During Tyrone's interrogation, in which Marc Stephens, Detectives McDonald, and Desmond Singh were present, Defendant Nathaniel Kinlaw mentioned that he saw "Tyrone and others" in front of McDonalds at 10pm, which Marc Stephens submitted the audio into evidence.

Detective Marc McDonald confirmed in his testimony that Tyrone was located at McDonald's Restaurant on Palisades Avenue at 10pm, and that Tyrone was adamant that he was not involved.

The detectives knew before their criminal investigation that Tyrone was located at McDonald's Restaurant on Palisades Avenue at 10pm, and still filed 7 criminal charges against Tyrone.

The incident occurred inside the parking lot of 7-eleven at 10pm, which Detective Marc McDonalds confirmed in his testimony during Tyrone's probable cause hearing.

The state witness, Natalie Cortes, testified that she 'did not' identify Tyrone by name, face, or as possible suspect, despite all police reports and false testimony from detective Marc McDonalds stating that she did.

Detective Marc McDonalds testified that 'none' of the victims, or co-defendant, identified Tyrone as the suspect, except co-defendant Justin Evans.

Justin Evans testified that he only said Tyrone was involved "out of revenge" because detective Marc McDonald and Desmond Singh stated Tyrone snitched on him. Prior to speaking with Justin, not one person mentioned Tyrone as being present, or involved with the incident. Marc Stephens submitted into evidence the audio of McDonald and Singh stating that Tyrone snitched on Justin.

The officers clearly cooked up their own evidence to arrest Tyrone Stephens.

Judge Martini was the only defense for all defendants. The entire event is all captured on audio and video. A jury would simply just have to listen to the framing of Tyrone Stephens. SEE VIDEO BELOW.

Marc Stephens hired multiple lawyers, and later discovered that they all were hiding the evidence which would have freed Tyrone. Marc took over the case by submitting multiple motions, and all of the evidence to the Bergen County prosecutor, and the Superior Court Judge. Two weeks later, Tyrone was released from the Bergen County Jail.

Marc filed a legal malpractice lawsuit against Nina C. Remson Attorney at Law, LLC and Comet Law Offices, LLC.

Only corruption can defeat the compelling evidence submitted by plaintiff Marc Stephens, who is the older brother and guardian of Tyrone.