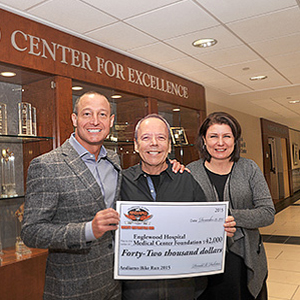 Englewood Hospital and Medical Center Foundation was the recent recipient of a philanthropic gift from the Andiamo Benefit Motorcycle Run. The gift benefits the Foundation's Transforming the Future campaign in support of the medical center's cancer care and maternity services, as well as major upgrades across the campus. To date, friends and benefactors have helped raise nearly $28 million in support of the campaign.

The Andiamo Benefit Motorcycle Run, now in its 16th year, drew over 1,000 participants and supporters. It is considered a premier fundraising event among the motorcycle community and draws riders from throughout the tri-state and beyond. Since its inception, the run has raised over $500,000 for the medical center.

About Englewood Hospital and Medical Center

Englewood Hospital and Medical Center (EHMC) is one of New Jersey's and the nation's leading providers of compre­hensive, high-quality, humanistic care. Founded in 1890, the fully accredited 531-bed nonprofit community teaching hospital has consistently ranked among top hospitals for clinical excellence and patient safety, including recogni­tion in 2014 as one of only 94 U.S. hospitals and the only Bergen County hospital to earn The Leapfrog Group's "Top Hospital" designation.

EHMC is among the 6 percent of Magnet-designated U.S. hospitals, a nursing excellence distinction that has been earned three times by its nursing staff.

In 2014 and 2015, EHMC was named among the top 5 percent in the nation for patient safety by Healthgrades.

Englewood Hospital and Medical Center is nationally recognized for its cardiac surgery and cardiac care, breast imaging and cancer care, spine surgery, orthopedic sur­gery, and maternity care, and is an internationally recog­nized leader in patient blood management and bloodless surgery.

EHMC is a Joint Commission-designated Primary Stroke Center and holds disease-specific Joint Commission certification in hip replacement, knee replacement, and spi­nal fusion.

EHMC's physician network, MD Partners, comprises more than 20 practices throughout northern New Jersey, includ­ing in Bergen, Hudson, and Essex counties, and Rockland County in New York. A teaching hospital, Englewood Hospital and Medical Center offers training programs in numerous specialties. The medical center is an affiliate of the Hackensack University Health Network.

About Englewood Hospital and Medical Center Foundation

Established in 1995, Englewood Hospital and Medical Center Foundation is the not-for-profit organization that develops private resources to support the capital, endowment and annual operating needs of Englewood Hospital and Medical Center. Through its fundraising programs, special events and outreach activities, the Foundation fosters community awareness of and investment in the Medical Center's healthcare programs and services. The philanthropic support of friends and benefactors enables the Medical Center's doctors, nurses and staff to deliver the highest quality medical care, providing our patients with a seamless patient experiences that helps to improve and save lives. For more information, visit www.englewoodhospitalfoundation.org.


Contact us at This email address is being protected from spambots. You need JavaScript enabled to view it.
Like us on Facebook
Follow us on Twitter
Subscribe to us on Youtube