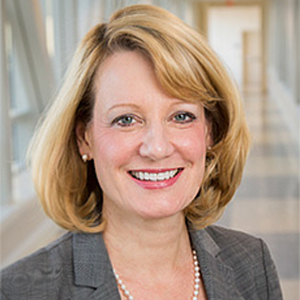 Englewood Hospital and Medical Center has named Mary Ann Donohue-Ryan, PhD, RN, APN, NEA-BC, as its new chief nursing officer. In this role, Dr. Donohue-Ryan will oversee the nursing department and its patient care services and operations, including working with physician leaders, hospital leadership, and the entire nursing team to enhance clinical performance, quality and safety, patient-centered care, and the patient experience.

She most recently served as the chief patient care services officer at Stony Brook University Hospital on Long Island and has held nursing leadership positions at Jersey Shore University Medical Center, Clara Maass Medical Center, and Hackensack University Medical Center.

"We are excited to welcome Dr. Donohue-Ryan back to New Jersey, where she spent many years serving our communities at distinguished institutions," said Warren Geller, president and CEO of Englewood Hospital and Medical Center. "As a Magnet-designated hospital in recognition of excellence in nursing, Englewood Hospital is committed to the highest standard of nursing care – one that Dr. Donohue-Ryan has spent her entire career advocating and fostering."

Dr. Donohue-Ryan is a former president of the New Jersey State Nurses Association and has consulted nationally and internationally for the American Nurses Credentialing Center's Magnet Recognition Program®. She received her nursing diploma from St. Francis Hospital School of Nursing, bachelor of science in nursing from Jersey City State College, master of arts in nursing from New York University, doctorate in nursing from Adelphi University, and nurse practitioner certificate from Columbia University.

About Englewood Hospital and Medical Center

Englewood Hospital and Medical Center (EHMC) is one of New Jersey's and the nation's leading providers of compre­hensive, high-quality, humanistic care. Founded in 1890, the fully accredited 531-bed nonprofit community teaching hospital has consistently ranked among top hospitals for clinical excellence and patient safety, including recogni­tion in 2014 as one of only 94 U.S. hospitals and the only Bergen County hospital to earn The Leapfrog Group's "Top Hospital" designation.

EHMC is among the 6 percent of Magnet-designated U.S. hospitals, a nursing excellence distinction that has been earned three times by its nursing staff.

In 2014 and 2015, EHMC was named among the top 5 percent in the nation for patient safety by Healthgrades.
Englewood Hospital and Medical Center is nationally recognized for its cardiac surgery and cardiac care, breast imaging and cancer care, spine surgery, orthopedic sur­gery, and maternity care, and is an internationally recog­nized leader in patient blood management and bloodless surgery.

EHMC is a Joint Commission-designated Primary Stroke Center and holds disease-specific Joint Commission certification in hip replacement, knee replacement, and spi­nal fusion.

EHMC's physician network, MD Partners, comprises more than 20 practices throughout northern New Jersey, includ­ing in Bergen, Hudson, and Essex counties, and Rockland County in New York. A teaching hospital, Englewood Hospital and Medical Center offers training programs in numerous specialties. The medical center is an affiliate of the Hackensack University Health Network.


Contact us at This email address is being protected from spambots. You need JavaScript enabled to view it.
Like us on Facebook
Follow us on Twitter
Subscribe to us on Youtube