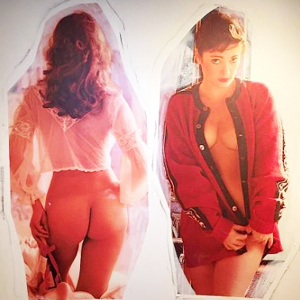 On January 7, 2016, Borghi Fine Art was issued a summons by the City of Englewood, New Jersey, for displaying a nude painting, entitled "Happy 20th (Pin up Series)" by Tom Dash. The City demanded that Laura Borghi of Borghi Fine Art Gallery remove the painting from the gallery, but she refused to remove the painting. Laura argued that it is her fundamental right under the first amendment to the United Stated Constitution to display the painting as an expression.

"Artists have a right to express themselves. The public has a right to see it. And I have a right to show this work," said Laura Borghi

"For me, growing up with art — and I have two children of my own — nudity is a beautiful thing," Borghi said. "It's a work of art. It's an expression. — We're a serious gallery, and the artwork that was on view was nothing that could be offensive to anybody."

Borghi Fine Art Gallery, which specializes in American and European paintings and periodically exhibits art works of nude or partially nude figures, has been on East Palisade Avenue for over 9 years.

City officials and code enforcement officer Walter Deptuch, who is also named in the suit, issued Borghi a fine of $1,250 per day and up to 90 days in prison for exercising her Federal and State constitutional rights.

Borghi's attorney, Brian Bernstein, said the U.S. and New Jersey constitutions prevent the city from censoring artwork and he's confident Borghi will win the suit. Her suit seeks compensatory damages and asks a federal court judge to declare the ordinance unconstitutional and to block its enforcement.

Borghi's case is similar to Freedman v. Maryland, 380 U.S. 51 (1965), which is a United States Supreme Court case that ended government-operated rating boards. Ronald Freedman challenged the law of Maryland that films must be submitted to the Maryland State Board of Censors before being shown in theaters, claiming it unconstitutional; violating freedom of expression granted by the First Amendment.

In a unanimous opinion by Justice Brennan, the Court held that a rating board had "no power to ban" a film. "It is settled by a long line of recent decisions of this Court that an ordinance which, like this one, makes the peaceful enjoyment of freedoms which the Constitution guarantees contingent upon the uncontrolled will of an official—as by requiring a permit or license which may be granted or withheld in the discretion of such official—is an unconstitutional censorship or prior restraint upon the enjoyment of those freedoms."

The City of Englewood is currently being sued for $76 million in Federal Court for alleged violation of constitutional rights. The complaint alleges False Arrest, Conspiracy, falsifying evidence, False imprisonment, intentional infliction of emotional distress, defamation, legal malpractice, and several other cause of actions.

The case titled Marc Stephens et el vs City of Englewood et al, is currently in the United States Court of Appeals for the Third Circuit. See the Video evidence.

Laura Borghi is asking residents to please help raise awareness and show your support in the fight for the freedom of expression by posting any works of art that challenge convention at #artnotporn on Instagram and Twitter. You can visit their website at www.artnotporn.com.


Website http://www.englewoodnjnews.com

Like us on Facebook
Follow us on Twitter
Subscribe to us on Youtube
Contact us at This email address is being protected from spambots. You need JavaScript enabled to view it.