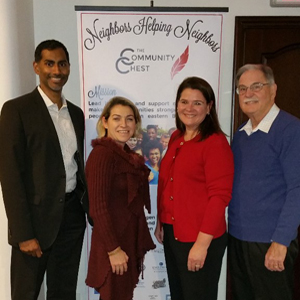 (Englewood, New Jersey; December 16, 2016) -- The Community Chest announces the appointment of three new trustees --Tevor Jadoo, Esq., Amie Aburustum, and Glenda James -- to the Board of Managers. They will serve a three-year term and work with the organization to carry out its motto, Neighbors Helping Neighbors.
"Each is a dedicated member of the community and presents a unique set of skills that will be very valuable to The Community Chest. They will be very involved in assisting with the implementation of the organization's new strategic plan," explained Dr. Shelly Wimpfheimer, Executive Director.

Jadoo, a graduate of Hofstra University's School of Law and Bergen LEADS, is a partner in the law firm Jadoo & Zalenski in Englewood. A Tenafly resident, Aburustum is an active volunteer in the community and holds a master of education in Speech and Language Pathology. James, a native of Guatemala, is Supervisor of Pupil Personnel Services at Dwight Morrow High School in the Englewood Public Schools. She is a graduate of Rutgers-The State University of New Jersey and Fordham University with a degree in social work and a graduate of Bergen LEADS.

"I am delighted to welcome these fine community members to the board. We are sure they will make excellent contributions to The Community Chest," said Richard Kennedy, President, Board of Managers.

About The Community Chest For over 80 years, The Community Chest, a nonprofit, tax-exempt organization, has supported local nonprofit organizations in the Englewood area. Each year, The Chest raises funds and allocates them to agencies that have demonstrated the capacity to provide services to local citizens.

The Community Chest also provides other coordinating and planning services in our communities, serving as a bridge between agencies and organizations and investing in the stability and quality of our service network. For further information about The Chest, visit www.communitychestofenglewood.org or contact (201) 568-7474.