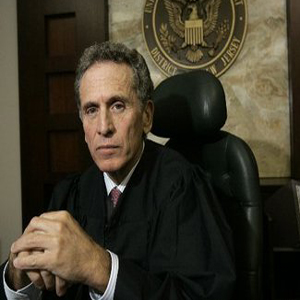 In a $76 million civil lawsuit for false arrest, conspiracy, defamation, fabricating evidence, and false imprisonment, Plaintiffs Marc and Tyrone Stephens, wants Federal Judge William J. Martini of the 3rd Circuit removed due to alleged bias in favor of the defendants and trying to sabotage their cases against the City of Englewood and several officers.

On October 31, 2012, at 10pm, in the parking lot of 7-eleven in Englewood, NJ, three victims were attacked and brutally beaten by a suspect wearing a black jacket, ski-mask, and riding a bike.
On November 2, 2012, the Englewood police department interviewed the three victims and witness Natalia Cortes. 'None' of them were able to identify the suspect.

On November 7, 2012, Detectives Marc McDonald during an interrogation stated to co-defendant Justin Evans that Tyrone Stephens was under investigation for the attack at 7-eleven and gave up his name as the suspect. Tyrone was never under investigation prior to McDonalds' statement.

On November 8, 2012, Tyrone Stephens, a juvenile at the time, was arrested as the suspect wearing a black jacket, ski-mask, and riding a bike, and charged with 3 counts of aggravated assault, 3 counts of theft, and 1 count for rioting.

During pre-trial hearings, Marc Stephens, the older brother and guardian of Tyrone, submitted evidence to Judge Conte and Judge Jerejian of the Superior Court in Hackensack revealing that several officers from the Englewood Police Department conspired to frame Tyrone for the incident at 7-eleven.

On December 13, 2013, Tyrone's criminal case was dismissed, and Tyrone was finally released after spending 1 year and 35 days behind bars.

On February 18, 2014, Superior Court Judge Conte signed the order dismissing all 7 charges against Tyrone with prejudice.

On September 5, 2014, Marc Stephens, along with his brother Tyrone Stephens, filed a 20 count civil complaint against the City of Englewood, Englewood Police Department, Det. Marc McDonald, Det. Desmond Singh, Det. Claudia Cubillos, Det. Santiago Incle Jr., Det. Nathaniel Kinlaw, Nina C. Remson attorney at Law, and Comet Law Offices, LLC alleging false arrest, false imprisonment, defamation, false evidence, intentional infliction of emotional distress, and legal malpractice.

On November 13, 2015, Judge William J. Martini dismissed the plaintiffs' civil complaint with prejudice. Martini states in his opinion and order the following, "The record shows that Englewood police officers had probable cause to arrest Tyrone. Specifically, the officers had four main pieces of evidence implicating Tyrone in the October 31 Incident: (1) the alleged photo identification by Natalia Cortes; (2) the statements made by Justin Evans; (3) inconsistencies in testimony regarding Tyrone's alibi; and (4) the statement Tyrone allegedly made to Jaquan Graham while in a holding cell".

Judge Martini also stated that the plaintiffs did not submit evidence.

As shown on court record, the plaintiffs submitted the testimony of Natalie Cortes, and she clearly 'testified' that she did not identify Tyrone Stephens in any photo identification.

Co-defendant Justin Evan 'testified' in court that the officers told him during his interrogation that Tyrone implicated him as the suspect. There is audio of Justin Evans sworn statement, and the officers clearly stated to Justin that Tyrone was 'under investigation for the attack at 7-eleven'.

The evidence on record proves that 'none' of the victims, or witnesses, identified the attackers, and that 'none' of the co-defendants mentioned Tyrone's name as being present or involved during the entire police investigation.

In fact, Judge Gary Wilcox, the judge in Tyrone's criminal case, ruled that Tyrone's alibi and defense witness were credible, and that according to the timeline giving by the defense witness, Tyrone should have been at 'McDonalds' at the time the victims were attack at 7-eleven. The only reason why Judge Wilcox found probable cause was because Detective McDonald 'testified' that all of the victims and witness Natalia Cortes stated Tyrone participated in the attack. Marc McDonald also 'testified' to a grand jury the same false statements.

On court record, the Plaintiffs clearly provided to Judge Martini the statements and testimony of defendant Kinlaw, Singh, McDonald, and plaintiff Marc Stephens' testimony that Kinlaw stated that he greeted Tyrone at McDonalds Restaurant at 10pm on October 31, 2012. The incident occurred a half mile away at 7-eleven at 10pm.

Stephens also provided a map illustrating the distance between both of the locations, and the testimony of defendant Marc McDonald stating that the incident occurred on October 31, 2012, at 10pm, at 7-eleven and that Tyrone stated he was at McDonalds at 10pm and greeted defendant "Kinlaw and Ron" in front of McDonalds.

Stephens also submitted as evidence the Englewood Police Department '911 dispatch' which clearly shows officers "Kinlaw and Ron" in front of McDonalds at 10pm on October 31, 2012, confirming Tyrone's sworn statement.

The evidence that plaintiffs Marc and Tyrone Stephens submitted on court record, which is available to the public, is enough to win a summary judgment, and surely enough to go to trial, but Martini surprisingly dismissed the plaintiffs' complaint and first motion for reconsideration.

On January 15, 2016, the plaintiffs filed a second motion for reconsideration and did not hold back their frustration with Judge Martini.

Marc Stephens brief states, "You and your chambers are clearly sabotaging our case on purpose. You keep saying we did not submit evidence, we pointed to our evidence on record on multiple occasions. Our evidence is on file, its public record, everyone can see it, and you are intentionally overlooking it".

Stephens continues by stating, "This is a clear abuse of discretion which will not be overlooked. You are not operating as a judge, or administrator of the law. It seems to be a pattern because the U.S. Court of Appeals removed you from two cases in 2004 and 2012 for "usurping the jury's role" and for "Bias toward the Defendant". You are clearly exhibiting a bias towards the defendants in this case by overlooking our evidence submitted on record, and forcing us to Appeal".

In fact, Marc Stephens is correct. Judge Martini was removed from 3 cases starting from 2004.

In 2012, Federal prosecutors asked an appeals court to toss U.S. District Judge William J. Martini off the Paul Bergrin case, saying "the jurist is biased in favor of the defendant". The prosecutors went after Judge Martini aggressively in the murder case, involving witness-killing charges against a former federal prosecutor turned defense lawyer, Paul W. Bergrin.

Bergrin, once a defense lawyer to rap stars such as Lil' Kim, drug kingpins, and U.S. soldiers in Iraq, and a son of a Brooklyn cop and a former prosecutor in the Newark U.S. Attorney's Office, faced a raft of counts including racketeering, witness tampering, murder-for-hire, fraud, cocaine trafficking and running a high-end prostitution ring.

The prosecutors said Judge Martini had displayed an "unwillingness to conduct a fair trial" and should be removed from the case.

In a 2004 case involving heroin and gun-possession defendant Douglas Kennedy — a different three-judge panel used stronger language regarding Martini's conduct. The court wrote that "(w)hen a judge openly questions the integrity of the government's evidence collection practices, undermines the professionalism of the prosecutor, and accuses the Government of prosecuting in bad faith — all without evidence of governmental misconduct — a reasonable observer could very well find neutrality wanting in the proceedings."

The 3rd Circuit U.S. Court of Appeals threw Martini off the criminal case brought against Bergrin and, in a double whammy, issued an opinion in a separate criminal case and tossed Martini off that case as well.
Paul Bergrin was sentenced to six life sentences. Judge Martini stated in an off-the-record conversation after the trial that he would have acquitted Bergrin.

Lawrence Lustberg, Bergrin's defense attorney, spoke about how rare it is for the 3rd Circuit to remove a sitting judge from one criminal case, much less two. And, he said, the issuing of the opinions at the same time could send a message to a judge said to be, by some prosecutors and others, unfairly defense-friendly in general.

The United States attorney, Paul J. Fishman, a Justice Department official under President Bill Clinton, has had his prosecutors call the judge "misguided," "irrational" and worse in court filings.

The admissible evidence in the case titled Marc Stephens, et al v City of Englewood, et al, is actually all on audio, which makes the Stephens case an 'iron-clad victory' -- once they get pass Martini of course. You can actually hear the defendants framing Tyrone Stephens.

Multiple lawyers stated that Tyrone is very lucky to have a knowledgeable brother such as Marc Stephens who does not back down and is willing to fight in court.

Martini has yet to give an opinion and order regarding the Stephens' second motion for reconsideration.


Plaintiffs' evidence proving Judge Martini as bias - MUST WATCH